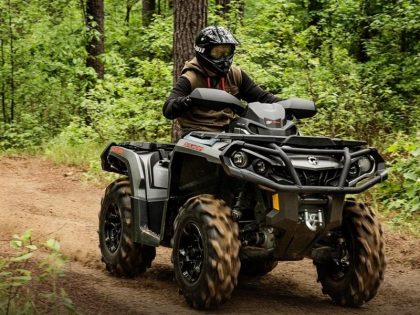 Are you vacationing in Breckenridge, Frisco, Vail, Dillon or Silverthorne? Why not come experience Colorado fall colors on an ATV! The beautiful fall colors and spectacular mountain scenery are in your midst on one of our unguided ATV rentals.
ATVs are a great way to get out and enjoy the wonderful Colorado fall weather and colors. We're only a short drive from summit county and Vail. There's a breathtaking adventure waiting for you in the mountains of Colorado. Come on out and ride through the picturesque country. Whether you've never been before, or you're an experienced rider, we have guided tours and unguided rentals to suit your needs and riding abilities. Ride alone or take along a passenger by riding double. Our staff is here to cater to you. We have knowledgeable guides that can tell you all about the area where you ride.
Be sure to bring your camera, as you'll have spectacular views, at 12,500 feet above sea level, of the continental divide and the Rocky Mountains ranges of Colorado. Book your unguided rental adventure today before the snow starts flying and the meadows get covered up as winter sets in.
Call now to reserve your side by side ATV! 970-389-0629. Or, contact us through this website.
Come and experience Colorado fall colors on on ATV from Colorado Outdoor Fun. We service Dillon, Frisco, Breckenridge, Silverthorne, Keystone, Copper mountain, Avon, Vail, Denver, Summit County, Beaver creek.