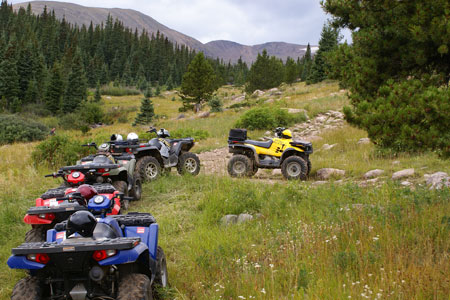 October means fall is here and the trees are at their peak of color. You could be traversing the mountains on a side-by-side/ATV rental in Colorado Fall
If you've never experienced it, make a point to spend time beneath the aspens on your visit to Colorado's mountains. It's the perfect time to get out on one of our unguided ATV rentals. Take a ride through this amazing area on a a side-by-side or ATV rental, or go on our guided side-by-side or ATV tours.
The colorful off road adventure of a lifetime awaits. This is a great adventure for all levels of riding experience. We have 2 and 4 seat side-by-sides available, as well as single and double ATVs.
Get out and experience the vibrant colors and scenic vistas of Colorado fall by off roading through the backcountry. Be sure to bring your camera! The jaw dropping views of the continental divide and mountain ranges will have you in awe. Soak in all the beautiful colors of fall in the mountains! Book your ATV experience now, and make it the trip of a lifetime!
Call now to reserve your unguided side-by-side/ATV rental or a guided tour! 970-389-0629. Or, contact us through this website.
Come and experience the fall colors of  the Colorado mountains in October with an ATV or side-by-side from Colorado Outdoor Fun. We service Dillon, Frisco, Breckenridge, Silverthorne, Keystone, Copper mountain, Avon, Vail, Denver, Summit County, Beaver creek.