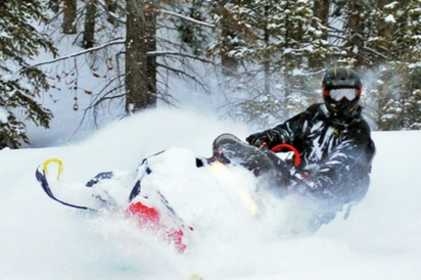 The snow will be here before you know it, so now is the perfect time to reserve your guided snowmobile tour or unguided snowmobile rental. Come ride in the snowy powder fields and trails of some of Colorado's most scenic backcountry.
Ride single or double on a guided tour or an unguided snowmobile rental. We offer new state of the art equipment. Our staff is very knowledgeable about the snowmobile trails and will cater to your experience level. It doesn't matter if you've ridden a thousand times or if it's your first snowmobile ride, we offer rides at any experience level.
You'll be whisked away to 12,500 feet in elevation, where you'll have 360 degree views of the continental divide and Colorado's gorgeous mountain ranges. Guided or unguided our adventures allow you to explore the extensive trail systems and huge open areas we snowmobile in. You do not need experience to ride on a unguided rental. So what are you waiting for? Book your ultimate Colorado winter adventure now!
Call now to reserve your unguided snowmobile rental or guided snowmobile tour! 970-389-0629. Or, contact us through this website.
Colorado Outdoor Fun services Dillon, Frisco, Breckenridge, Silverthorne, Keystone, Copper mountain, Avon, Vail, Denver, Summit County, Beaver creek.